21 November 2010
PEDRO RUIZ—We had hoped to be in the mountain city of Chachapoyas this evening but it was not to be. Despite the late night in Tarapoto we got up early, paid our bill and got a moto-taxi to the bus station before 0900. Unfortunately the bus for Pedro Ruiz—a way-station town where one must make further arrangements to Chachapoyas—had left at 0800 and there wouldn't be another bus until 1300. This wouldn't put us in Pedro Ruiz until, the ticket girl said, about 2030, too late to go on to Chachapoyas for the night. It also meant over four hours sitting in a bus station. I had slept so poorly the night before, however, that I was able to sleep a few hours even in what felt like pre-Incan seating. A world away, back at the Cleveland airport I had bought Kristina a large puzzle book and she attacked it while I dozed with a certain ferocity, marking down answers with motion s akin to slashes and stabs, as if the pencil were a small saber and the puzzles an enemy to be vanquished.
Finally we boarded the large, double-decker bus and settled into comfortable seats, heading out of town on dirt roads that became intermittently paved as we ascended into the Andes. The green valley floor with its rice paddies, sugar cane fields, stands of bananas and eternally unchanging adobe villages gave way to green mountains checker-boarded by fields and swaths of jungle, shining under the clouds of the incipient rainy season in a light the color of ancient silver. The higher Andes were visible as silhouettes of blue on darker blue in the distance and we climbed steadily as the sun sank lower.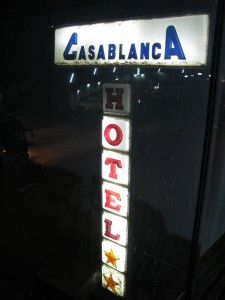 As night fell and darkness came we continued to climb and by the meager light of the bus' headlamps and those of passing traffic we could see that we were in thick jungle, ascending on roads that switch-backed almost upon themselves. At times the forest was so dense that it completely overhung the highway, blocking out any glimpses of the stars. The plants seemed to eat the light emitted by the puny machine that, nonetheless, I was glad to be inside, with a layer of glass and motion between the wilderness and me. At other times there was a yawning blackness to the left as the road fell away into nothing and I would have felt better walking or, better yet, secure in a hammock. Finally, then, I slept, exhausted from straining my eyes, trying to make some sense of the exterior blackness and woke shortly before entering Pedro Ruiz, right on time.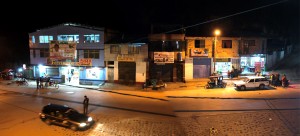 The bus station was on the edge of town and we walked back to the Hotel Casablanca whose sign we had seen glowing in the night. We got a room for 40 Nuevo Soles and, though it was nothing special, it was clean and secure and we were grateful for a bed and a shower and a door to lock behind us. We laid down our packs and got to the nearby Restaurante Polleria Cyndy in time to eat dinner. Back in the room the hotel sign glowed right outside our window and people laughed and shouted and caroused on the street and it made no difference because we were soon fast asleep.