21 November 2010
PEDRO RUIZ—It was Sunday and we tried to be good, get up early and go to church. I put on my black, traveling tie and she put on a long, tartan wool skirt and we decided, despite being Protestants, to go with the local consensus and find the Catholic place of worship.  We walked out into bright and clear morning mountain light. The peaks and ridges we had felt more than seen the night before surrounded our world and the first word that came to mind to describe the Andes was "muscular," and then, perhaps uninspired but accurate nonetheless, "big… Really, really REALLY BIG." The ridges and folds of the new, still growing and mostly bare slopes resembled enormous biceps, flexing and rippling, studded with cacti. These close mountains were dwarfed by the next, larger lines of peaks–ridges that receded into the next ridgeline and the next, losing detail until they became vague, blue silhouettes–tracings of mountains far, far away.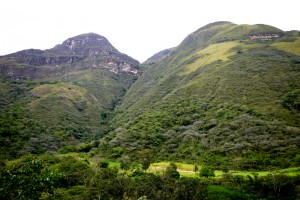 We asked directions a few times and located the Catholic church but we weren't early enough. It wasn't yet 0800 but worship was over and business was in full swing. Sunday is also market day and Pedro Ruiz is a waypoint and market town. Since we were stumped for mass we walked through the busy market, admiring the many varieties of maize—huge white kernels, silky black kernels that became a midnight purple when turned to the light, corn kernels in various shades of yellow in many different sizes. And then there were the potatoes. The potato originates in the Andes Mountains and I have read there are, literally, hundreds of different varieties. We didn't see hundreds but there were a score or more of different types, ranging in color from purple-black to bright yellow, to white and red, orange and ones with various stripes and swirls–big ones, small ones, long thin potatoes and tiny round potatoes, potatoes like gnarled witch's fingers and potatoes you could play marbles with. As for potatoes they lacked nothing but a pot of boiling oil and an accompanying side of hamburgers.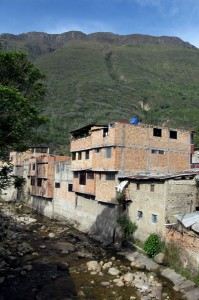 In my experience the Peruvians are polite and friendly but, as we walked through the market and down the streets, they seemed extra solicitous with their, buenos diases. I thought a moment and suddenly saw us with their eyes. Out of respect for the church we didn't go to I'd left my cameras in the room but had brought my black, leather-bound journal. A tie, in my experience, is rarely required in much of Latin America (Ricardo Maduro, President of Honduras from 2002-2006, didn't wear one to his own inauguration ceremony, for example) but I always pack one and often wear one to church or dinner. So there I was, striding boldly through the market, wearing a black tie and clutching a black, leather-bound book, saying good morning to all and sundry, followed by a woman wearing an ankle-length skirt. By all the signs we were the new evangelical preacher and wife come to town. Since we had missed church and not wanting to disappoint, I briefly considered delivering a street-corner sermon, renting a house and settling down in Pedro Ruiz to raise a family and spread the Good Word but decided my Spanish wasn't up to it. Instead we returned to the Hotel Casablanca, packed our bags and went in search of transportation to Chachapoyas.